19th AGILE Conference on Geographic Information Science
Geospatial Data in a Changing World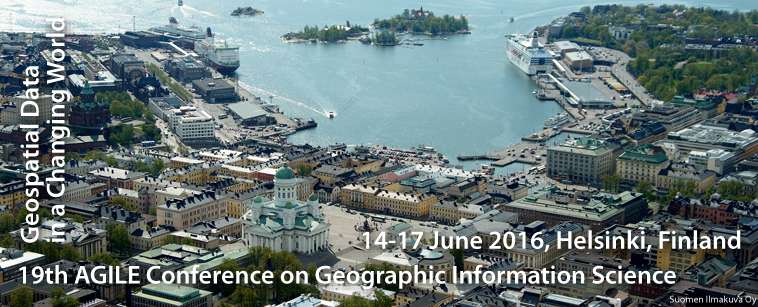 On behalf of the AGILE council, we cordially invited to participate at the 19th AGILE International Conference on Geographic Information Science, scheduled to take place in Helsinki, Finland! The conference venue was the main building of the University of Helsinki, Fabianinkatu 33.
The program have offered parallel paper presentation sessions, keynote sessions, poster sessions and pre-conference workshops to share your ideas, explore on-going research, future developments, including state-of-the-art applications, and to network with the professionals from academia, industry, and government who are interested in promoting GI teaching and research activities among GI laboratories at the European level.
AGILE 2016 took place in Helsinki, the capital of Finland, the 'Daughter of the Baltic Sea'. Excellent flight connections have made Helsinki one of the most attractive congress destinations in Northern Europe. Over 450 years of history, Helsinki is known as a safe, secure and clean city with high standards of education and technology. In addition, the city reflects the beauty of nature, sea, design and architecture.
Supplement Links
Organizers

Sponsors