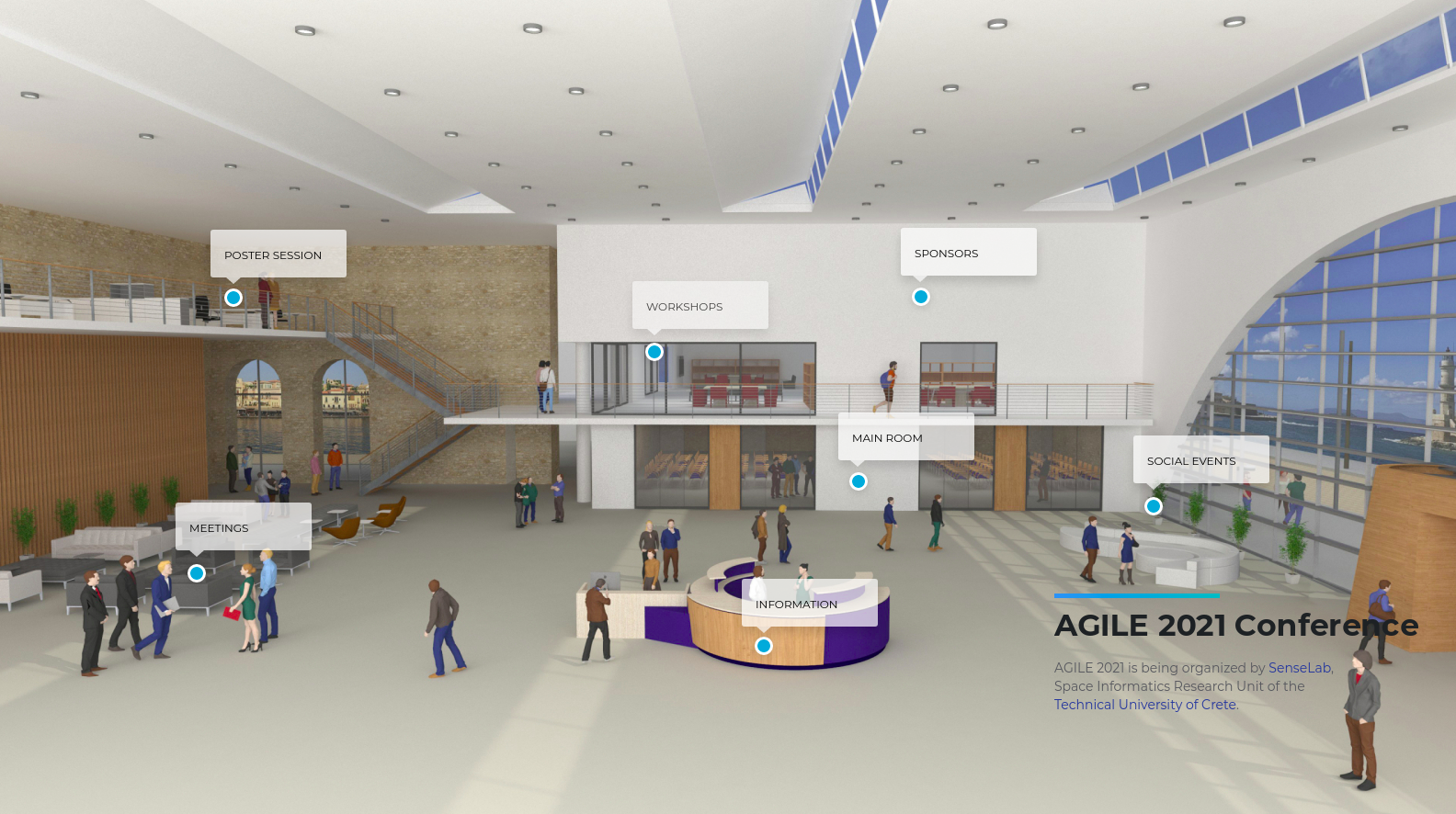 The AGILE 2021 virtual conference portal was running : AGILE 2021 portal
The Association of Geographic Information Laboratories in Europe (AGILE) announced AGILE 2021, the 24rdAGILE Conference, which took place virtually on June 8 – 11, 2021. AGILE 2021 was organized in collaboration with the Spatial Informatics Research Unit of the Technical University of Crete.
For the first time the 2021 AGILE Conference was held virtually and this constituted a great opportunity to expand the visibility, inclusiveness and broadness of the event. AGILE 2021 virtual Conference were attempt to retain as much as possible the conventional in person conference activities, but also support several enhanced visibility and attendance features. Live presentations, virtual meetings and events, poster sections, hands on workshops, invited talks, demonstration activities and commercial presentations in dedicated virtual infrastructure were supported. The virtual hosts were situated in Chania, Crete Greece and since this year participants will be deprived of the hospitality, picturesque setting, excursions and sun of one of the most beautiful cities, they were attempt to made up through virtual tours and other surprise events, hoping to meet in person the soonest possible in the following Conference series.
Researchers, developers, lecturers, students, and practitioners in all facets of Geo-Information Science and Technology and their applications, were cordially invited to the conference, to present ongoing research, showcase products, network with colleagues from Europe and the rest of the world, and find out about the latest developments in the field. The conference theme for AGILE 2021 was "Geospatial Technologies: on the verge of change", aiming to highlight the role of geospatial technologies in the current demanding circumstances from local to global scales, including resilience, epidemiology, spatial infrastructure, and pandemic impact related studies.
This year's submission fees have been significantly reduced to support authors presenting their work from around the globe. Graduate and PhD students were further supported through the considerably lower fees, and gain high visibility. Agile 2021 following last year's practice will further support reproducibility on submitted manuscripts. In addition, all accepted submissions are published as Open Access articles to gain further visibility.
---
Supplement Links
Organizers

Sponsors